The best-selling all-in-one treasure and gold detector just got better. The EQUINOX 900, driven by Minelab's proven ground-breaking Multi-IQ technology, boasts an impressive 119 High Resolution Target ID system, superior target separation, and is fully waterproof to 5 m (16 ft) with IP68 rating. With upgrades like its 3-piece carbon-fibre collapsible shaft system and advanced audio controls, plus fully-loaded features including Control Pod Flashlight and Handgrip Vibration there's never been a better time to join the Minelab EQUINOX revolution.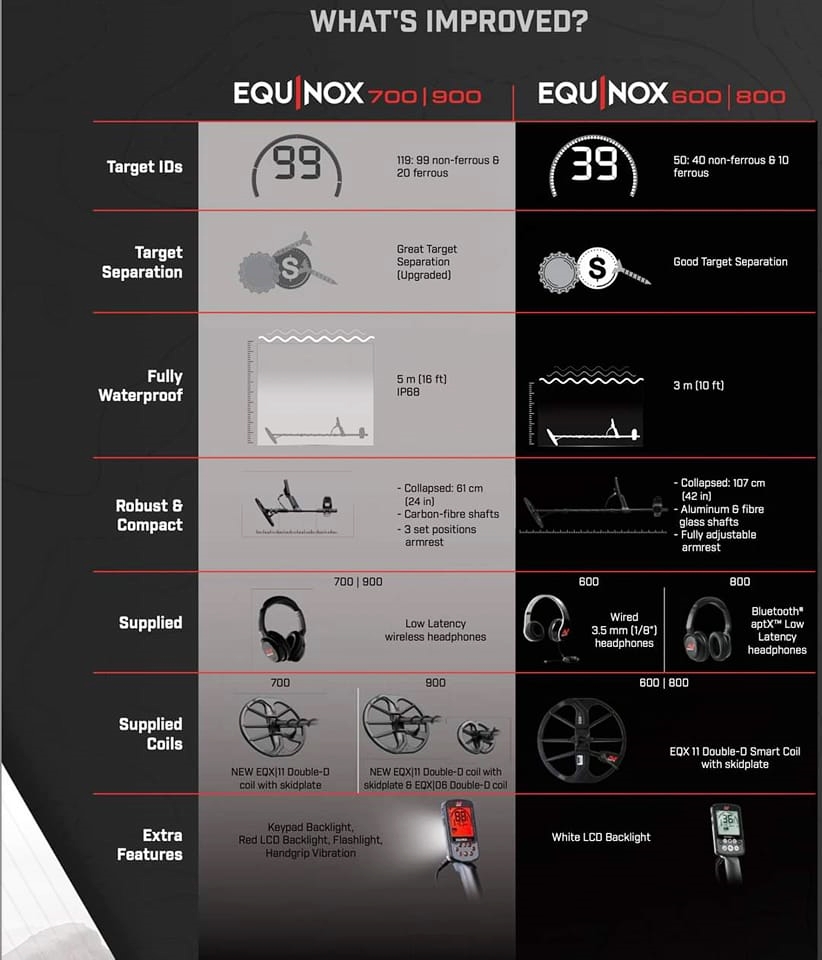 Features:
Simultaneous Multi-Frequency - Minelab's revolutionary Multi-IQ technology, you've got the combined power of multiple detectors in one — all working for you at the same time. Nothing goes undiscovered and no terrain is off limits. Silver, gold or jewellery. Park, field, or beach. Unearth the power of EQUINOX powered by Multi-IQ.
11" and 6" Double-D Smart coils included - Supplied with 2 coils to give you the best performance in different environments.

Waterproof Design

- EQUINOX is fully submersible, ideal for detecting at the beach and in rivers, streams and lakes. (5m / 16-feet)
Sleek & Lightweight - Rugged and lightweight collabsable construction allows you to enjoy long detecting sessions in any environment.
High-Speed Wireless Audio - Experience ultra-fast wireless audio with the Low Latency / Wireless headphones.
8 Custom Search Profiles - Each Detect Mode features 2 custom Search Profiles so you can save your favourite settings in each mode.
Fast & Accurate Target ID - Fast recovery speed with 119 segment Target ID ensures you won't miss any valuable targets amongst the trash.
Advanced Settings - Gain even more control of your detector audio with Advanced Settings; you decide how much target information you hear.
Gold Detecting Mode - Gold Mode operates the high single frequencies of either 20 kHz or 40 kHz to detect gold nuggets in mineralised soils.
Vibrating handle for the hearing impared
Built in Led flashlight
Built in 3.7V5100Ah Lithium Ion battery
Detect Modes:
Park - Great for high-trash recreational areas, including most general detecting.
Field - Ideal for detecting in historical fields for the widest range of target sizes.
Beach - Optimised for all salty conditions – dry sand, wet sand, surf, underwater.
Gold - Best suited for gold nugget prospecting in mineralised goldfield locations.
User Interface:
The clear LCD features large Target ID numbers so you can see your target ID at a glance. All of the information you need when detecting is right there in front of you.
Detect Modes and operating frequency can be instantly changed at the push of a button for a dynamic and uninterrupted detecting experience.
Using the EQUINOX 900 user interface, you can:
Change the Detect Mode, Frequency and Sensitivity on the go.
Create your own notch discrimination patterns to ignore unwanted targets.
Activate All-Metal mode to temporarily disable the current discrimination pattern.
Activate Pinpoint mode to zero-in on a promising target so that you know exactly where to dig.
Adjust an array of essential and advanced detecting functions including Noise Cancel, Ground Balance, Volume Adjust, Threshold Level, Target Tone, Accept / Reject and Recovery Speed.
Customise Advanced Settings to change the way detections are heard, by selecting the number, pitch, and volume of your detection signals.
View the status of your battery and wireless audio device connections.
Multi-IQ
Low frequencies give more depth on large targets, and high frequencies are usually more sensitive to small targets. With EQUINOX you can operate across the full spectrum of frequencies simultaneously for maximum results. Read more detailed information and reviews on our game-changing Multi-IQ technology on the Minelab Treasure Talk Blog.